A-M B-Well™ Omega 3 PGFO Capsules
A-M B-Well™ Omega-3 PGFO capsules have a Natural Product Number ("NPN) 80002607 issued by the Natural Health Products Directorate ("NHPD") of Canada. A-M B-Well™ Omega-3 PGFO fish oil Capsules is a highly concentrated fish oil derived from ultra refined, molecularly distilled fish oil. Each bottle contains 90 capsules. Each 1,000 mg. capsule contains a minimum of *400 mg. of EPA and *200 mg. of DHA (both as triglyceride, TG), for a minimum summed total of 600 mg. of Omega-3s per capsule.
Bring Nutritional Balance Back Into Your Life With A-M B-Well™ Omega 3 PGFO Capsules!
The remaining 400 mg. is made up of glycerin, purified water, and 10 I.U.s of Vitamin E for oxidative stability. Our pharmaceutical grade fish oil has been purified using advanced molecular distillation to make it virtually contamination free of PCB's, mercury, dioxins, furans and heavy metals often present in related products containing Omega-3 fatty acids. Each batch of Omega-3 capsules has been third party tested by the International Fish Oil Standards ("IFOS") at https://certifications.nutrasource.ca/certified-products/brand?id=AMBW.
* The 400 mg of EPA and 200 mg of DHA is often expressed as a 40:20TG EPA/DHA product in parts per 100.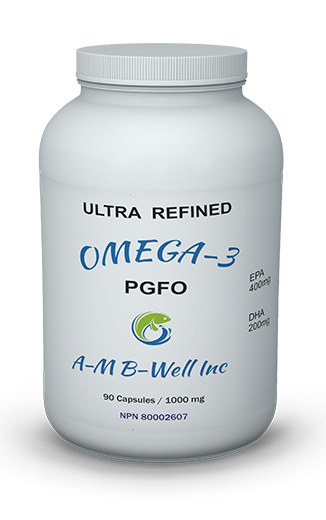 Advantages of Omega-3 PGFO Capsules
You receive 90 capsules in 1 bottle of Omega-3 PGFO capsules. 3 capsules/daily will supply you with 1 month of supplementation based on the suggested dosage for optimal health.
One bottle of Omega-3 PGFO capsules will last 3 months after opening.
Omega-3 PGFO capsules are resistant to high temperatures of up to 40 degrees Celcius and do not need refrigerated AFTER the bottle is opened, so they are perfect to travel with.
Unopened bottles of Omega-3 PGFO capsules will last until the expiry date (shelf life) printed at the top of the bottle and should be stored in a cool dry place.
Some customers may require less than 3 capsules daily while others may require more capsules daily. Once the daily dosage is determined if treating a specific condition, it is easy to count out the capsules.
Omega-3 PGFO capsules are odourless with no flavour versus Omega-3 Liquid Gold where taste can be subjective.
The fish oil is protected by a gelatin capsule giving an added layer of protection against oxidation. Omega-3 PGFO capsules have an airtight container which has been inductively sealed with silver foil. The convenient twist top lid has also been sealed for added security and protection. The bottle is white in colour to ensure lack of exposure to light.
Order Today!
Disadvantages of Omega-3 PGFO Capsules
Elderly people and children may have trouble swallowing a 1 gram capsule.
Some customers requiring large dosages of Omega-3 fish oil may have trouble swallowing all the capsules required to treat a specific disease.